This page is dedicated to in depth product reviews.
---
Our Price: £35.95
Fishing in the autumn and winter usually involves close contact with rain, wind and sometimes snow so what better to review than an all weather suit. AB Fishing Tackle kindly sent me the Klobba all-in-one weather suit. I have used many types of wet and weather protection gear in the past, from the skinny light wet weathers right up to the top of the range flotation and all weather suits so I was interested to see how this suit fared in the scheme of things. At £35.95 I was keen to see how it performed because as any of you who have been caught short in wet, windy and cold conditions know £35.95 is a minor cost compared to the warmth and protection it can provide which leads me nicely onto the review.
Info
This is an all-in-one all weather suit which is completely water and windproof. It has a heavy duty quilted lining, two handwarmer pockets and one chest pocket, a peaked hood with adjustable drawstring, a double zipped front with velcro secured storm flaps, a storm collar and extra long boot zips and velcro fastenings, and an adjustable belt strap. It comes in a dark Green and Grey finish. I'm 5ft 11ish and average build and I had the XL which fitted fine.
Review
I decided to test the suit at a local match fished on Brighton Marina in conditions that can best be described as fierce. It was a SW and a pretty sizeble force which made it just fishable. Those of you that have fished it know that in such conditions there is a lot of sea spray with some waves crashing up against the arm and the wind blows it right over you. I made the walk from the car and usually I would have carried my flotation suit which is quite heavy in comparison so it was nice to carry something quite light. For the size and the thickness of the suit I was impressed with how light it was. Once I started fishing I put it on and began the usual activities such as casting, crouching down to bait up etc. One of the things I was pleased with was that the suit felt very flexible and didn't restrict my movement at all, unlike some wet weather and flotation suits I have used in the past (mainly when casting). There was also a good number of pockets to put things in (usually bait elastic so i don't lose it), the only problem was remembering which pocket I had put it in!
The suit itself had a nice insulating inside which kept me warm throughout the day and it also kept out the force of the chilling winds very well. As for the wet side of things, I tested it to the extreme with the waves and sea spray which would far outweigh rainfull. At times it was almost similar to chucking a bucket of water all over me and thats no exaggeration! There was only one point when I felt some dampness in the seam at the lower back but this was after a particularily large wave crashed against the arm and the dampness quickly dissapeared. I remained dry for the rest of the day. I feel it's important to point out though that I have experienced similar dampness in expensive wet weather and flotation suits as they can all only take so much so this really did perform very well.
Overall
I was very impressed with this items preformance and would certainly recommend it as great value for the price. The flexibility and movement while using the suit was non restrictive like other suits I have used. The suit kept me warm and dry in really wet and wild conditions, so for the price I couldn't ask for more. It has certainly given me a tough choice to make when fishing next between this and my more expensive flotation suit and if I'm in safe conditions (no risk of falling in or on a boat) then I will most likely opt for the Klobba suit due to its lightness and flexibility because in terms of keeping me dry and warm there was little or no difference and it was actually easier to fish.
---
Product review - Okuma Magnetix MG-20CS
Available from www.abfishingtackle.co.uk
Click here to buy the reel from ABfishingtackle today!
Stats:
High speed gear ratio: 6.2:1
· Bearing 2BB + 1RB
· Line capacity: 14lb/230yrds, 18lb/170yrds, 20lb/160yrds
· Magnetic cast control system
· Lightweight graphite frame
· Speed Lock pinion gear system
· 5 year manufacturer warranty
About the reel: This reel spent 2 years in testing where Okuma took it through its paces in a variety of conditions. Okuma took the body from the award winning convector pro range and developed a magnetic braking system to the reel for excellent casting and spool control. During its relatively short history on the UK beach fishing scene it has already become a popular real amongst many anglers. This is mainly down to its ease to use, excellent build quality and great price!
First thoughts: My initial thoughts were that this reel had a tough task because it has a lot of stiff competition from reels such as the old Daiwa 7ht and the Slosh20 as well as the Abu mag elite 6500 range which are all just slightly more expensive then this reel and have a pretty good pedigree. When i received the reel my first impressions were that it was attractive looking and was similar in appearance to the Daiwa Slosh but with the added benefit of a braking system like on the Abu mag elites so it appeared if they were combining the best of both. My only concern at this point was that it would either be an excellent blend of attributes or could turn out to be horrendous so I was itching to get out and test it. Before I go onto the test, I just want to add that I could tell straight away that it had a very good standard of build quality. Now you may question how I could tell this but I can assure you that having bought and owned numerous multipliers in the past, you get a feel for whatís good and whatís cheap and nasty.
The Test: I took this reel for a number of tests across a variety of conditions. These included beach casting, pier fishing and over rough ground.
The first test was a beach bash at a local mark targeting Pout, Whiting and Codling. The mark we fished is mainly clean ground with the odd snag and muscle bed. The first few casts were made with the brakes on full just to ensure that I didnít birdy it early on in the session. After a few casts I became confident and reduced the brakes to halfway and I must admit I was pleasantly surprised with the smoothness of the cast and the way the line came off the spool during the cast. I say surprised because i have mainly used Abu Mag Elites for my casting as they are renowned for distance but the Okuma reel gave a very good account of its self. Upon detecting a bite I reeled in and was pleased that it had a Slick, quick retrieve, which was quick and strong enough to reel in over any snaggy patches. Later in the session i let my friend, who has relatively no experience of multipliers, have a go with brakes on full and he managed a reasonable distance within his first few casts and enjoyed using it so much so that he is looking to buy one himself.
The next test was on Brighton Marina East arm which has mixed ground in patches. Me and my friend used this reel throughout the session (I gave it to him to use after I left) and were please with how it handled. At this location we needed to cast varying distances with large and small baits. It coped with the snags and rougher aspects very well as its quick retrieve meant it could clear them easily and bring the fish up the wall with no fuss. All in all I managed to land some small Bass, a nice Pollack of 1lb4oz and plenty of whiting. John, my friend who was using it after I left, managed to bring in double and treble shots of good sized whiting.
The final test was on the Prince of Wales pier in Dover during a match situation. I used it for fishing close in on this occasion for Pollack although I did give it a few casts out for whiting when needed. When casting out it worked very well and caused no problems. The ground I was fishing was muddy and rocky in places. The strong retrieve meant i could lift out of the mud and avoid the snags which meant I could get my fish in to be weighed! Iím pleased to say that when fishing close in it didnít disappoint and the power handle and smooth retrieve coped with the strong bites and crash diving runs of the Pollack. It managed to bring them up and over the wall with no problems and due to its ease to use meant I would be back in the same spots within minutes. This worked so well that it helped get me the heaviest dayís bag of Pollack with 3.9 kilo!
Positives: The reel coped well with all sea conditions and due to the quick retrieve ratio and power handle it works well over mixed/rough ground as well as clear sandy beaches. I reeled in some nice sized Pollack and whiting on this reel and the handle design gave me great confidence and power when retrieving the fish, especially over rougher/mixed ground. The casting is very smooth and you can achieve a good distance with reasonable power even if youíre a novice. The magnets work very well and are easy to adjust with the flick of a switch which makes setting up and using the reel a doddle. For the price it really does represent excellent value and build quality.
Negatives: Now this section looks long but there are actually very few negatives and this is mainly an explanation of a few things I found and rumours/myths I have heard about the reel. The only main negative about this reel is the clicking when you reel in, which can annoy some people, however, I didnít find it too much of an issue. As far as Iím aware it is do to with the anti reverse system. It is apparently relatively easy to remove, although it hasnít annoyed me enough to bother removing it. The only other issue is that the spool can run pretty quickly towards the end of the casts which can lead to the odd birds nest if you donít set it up correctly. I would advise starting with the brakes on full and gradually easing off them as you become more used to and comfortable with the reel. Besides these two minor issues I couldnít find many problems with the reel. A major bonus is that it comes with a 5 year manufacturer warranty, which, as far as Iím aware, is not offered by any other manufacturer of similar sized reels, therefore they are very confident in the durability and build quality of the reel. I have also heard people comment on the small amount of line capacity of the reel being a problem, however, I really donít think this is an issue because how many people can cast a fully baited rig beyond 170 yards, not many!
Final comments: All in all, this reel performed very well in all the tests and represents great value for money. I would gladly recommend this model to anyone looking to get a new multiplier or that is looking to purchase one for the first time due to how user friendly it is. I have Abu Mag Elites, Daiwa Sloshís and 7hts in my collection and i can safely say this one has been added along side them and I would not hesitate in using it again especially over mixed ground due to its quick retrieve. I would opt for the model without the level wind as you will quickly learn how to guide the line onto the spool with your thumb and this will allow you to get further distance on your casts in the long run. Iím confident that anyone buying the reel will not be disappointed and it would make an excellent Christmas present. If anyone would like to test the reel themselves before buying it from www.abfishingtackle.co.uk, please feel free to contact me at craigide@hotmail.co.uk and we can arrange a date or time when Iím fishing for you to pop along and have a go. Finally, i must really re-iterate the point made at the beginning of this review that during its relatively short history on the UK beach fishing scene it has already become a popular real amongst many anglers. This is mainly down to its ease to use, excellent build quality and great price!
---

Tronix are an up and coming locally based tackle dealer who have just launched an exciting range of products, which include terminal tackle, ready made rigs, lures, feathers and much more. They sent me a selection of products to review and you may have also seen the recent article about them in Sea Angler magazine.
I took various items from the selection out with me for a couple of road tests on Brighton marina in early July and also made some rigs using the terminal tackle they supplied. In calmer weather I used the ready made feathers to catch some fresh mackerel for bait, which worked well and were much better then some of the flimsy cheap sets on the market. Once I had enough bait I set up a float rod and used the tackle supplied to make the rig up and hooked into some Mackerel and Garfish, the tackle was working well so far.
I also used one of the ready made 2 hook flapper rigs down the side for Wrasse and Pout and the quality of the rig did not disappoint. All in all I had a successful fishing session and could find no fault with the quality of products on offer. I also took them to another session with the guys in my local fishing club who were pleased with the way that the items coped with the demands of match fishing, so much so that they purchased a large selection of items off me on the spot. During this session I landed a 4lb Smoothhound and the 1/0 Aberdeen hook was sharp enough to hook the fish and didnít bend out during the fight as some brands of hooks have in the past.
In fact, I was so pleased with the quality that I have decided to stock their products in the SussexSeaFishing online shop and use them in my fishing sessions.
Even better, for the first month only, they will be introduced at a special half price discount (49p per pack and 39p on selected items!) so get yours quick. A point of interest for mullet anglers may be the size 12 swivels and small clear beads. Coming soon there will be some 2 & 3 hook clipped down rigs ideal for distance casting, along with a wide selection of other
---
Shakespeare Salt Travel Rod
With the summer holidays coming soon and the increase of fisherman travelling around our isles and abroad in the pursuit of fish it wasn't too long before the rod manufacturers identified the need for travel rods which can be thrown in the boot or on a plane without being damaged and not being damaged. There has been a range of rods available and I was always interested but sceptical about how well such a rod would cope. The guys at www.abfishingtackle.com kindly sent me this Shakespeare Salt Travel rod to review as, like me, they were interested in how it would perform, so here it goes.
Spec: The rod consists of six sections, which have there own carry sleeves, these are then placed into what feels like an indestructible carry case. Upon receipt of the rod my first impression was how good the quality of the rod and case were. The case was seriously hard core but at the same time, light enough to carry easily. The rod pieced together and felt as if it was built to a standard much above its price tag of £76.95! Furthermore, the rod has 8 Fuji rings and a Fuji screw-winch reel seat, which again is an indication of its quality build. It casts 4-8oz although I think it is much more suited to 4-6oz. The rod is designed for beach and surf fishing but could be used in a variety of situations.
Test: I took it for a test at my local beach and was almost a little nervous as I hoped that the casting and fishing performance matched that of the build quality, needless to say I was not disappointed. The reel seat is fixed in a comfy position that would suit 99% of anglers. I paired the rod up with my Mag-Elite Florida Orange multiplier, but it can be used with a fixed spool as well. For the first cast I went gently with a 4oz lead, as at this point I still had my doubts, however, this went a good distance with little effort so I reeled in and gave it a bit more welly which it just soaked up. I upped the lead weight to a 5oz and still the rod action was brilliant when casting. The casting action of the rod was smooth and began to fill me with confidence and I can honestly say that I wouldn't have know the difference between this rod and a two piece outfit of similar spec. I am no big 200-yards+ distance caster by any means but I was achieving a very comfortable distance with every cast and was surprised at how well it performed. I also used a 6oz weight and this was fine although I did try it with an 8oz weight and would say that 6oz lead and baited up rig would be the maximum when really trying to give it some oomph. If using an 8oz lead I would give it an overhead chuck and not a full-blown cast. My sceptical side was being more than converted and I was really enjoying the session. I decided to get some fresh bait and put some feathers on and the casting distance still held up. Within a few casts I was into some mackerel and you could really notice that they were on there, the rod tip knocked and pulled as they tried to swim in opposite directions as they tend to do. I then used it on the bottom with a normal 3 hook flapper and again the casting distance was impressive. Whilst there was not much about on the day, the bite detection was good enough so that I could see what I thought to be little crabs just pinching the bait off the hooks and I did see the one bite from a small flounder that I hooked which is a positive thing.
Overall: I am delighted with the way the rod performed and will definitely be using it in the future, especially on my travels as it will reduce the stress of taking a rod through an airport, which is worth the £76.95 price alone (if you have attempted to take a normal beach/surf rod through an Airport before then you will know what I mean). I really can't emphasise how much fun and convenience this rod offers. If your after a rod for travelling or if storage space is at a minimum then this rod is a must have. As I said earlier, you will get little better in terms of quality and versatility within its price range, and for £76.95 its highly affordable. It's one that I will definitely be keeping in my collection from now on. If you are interested in buying one then visit www.abfishingtackle.com for a great price and quick delivery.
---
Shakespeare Contender Beach Combo (Sussex Sea Fishing Highly Recommends)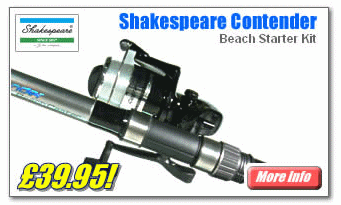 Contents:
The guys at www.abfishingtackle.com kindly sent me this combo to review. Their request was to review it as honestly as possible, so here it goes. The combination is an entry level kit, primarily for people starting Sea fishing or that may not be able to afford the Centuryís & Zzipplexís of this world. I think the important thing to remember here is to not expect any miracles from the combo given the price (£39.99) as it is no £400.00 combo but what it does is represent is a good quality set up at a highly affordable price. I mean, lets face it, its cheaper to buy this set up then it is to go for a night out or buy a computer game and you will get far more use, and arguably, pleasure from it. You get a lot for the money! Taken on these merits my review is as follows.
First Impressions: Upon its prompt receipt, I was pleased to see that the rod looked sturdy and of very good quality considering the price. It looked as if it would comfortably handle an 8oz weight if required but would be best suited for 4-6oz casting. The rod was heavier than what I am used to but when compared to other rods in its price range it seemed on par with other models. It felt comfortable to hold/grip and seemed to have good flex in the rod tip. The rod eyes were again of a good standard and I really didnít have any reservations about the rod, given the price as it actually felt of a slightly higher quality then it was priced at. My only concern was that the bite detection may suffer as a result of being able to cast the heavy weights, as this can occur on cheaper rods; however, this was not the case. The reel came with a full spool of clear monofilament line, which was a nice touch. The reel did not feel of as quite good quality as the rod but then on reflection, given the price of the combo it definitely represents good value and quality. The tackle it came with was also of a good standard and gives the purchaser plenty of items to help them start fishing. All in all, first impressions were positive.
The Test: I have taken the combo out with me on 2 different occasions and tested it under different conditions. Firstly I used it from the beach, as this is primarily what it is designed for and secondly I tested it in a match situation on Brighton Marina. I did this to test it against the different types of conditions that most anglers would come up against.
From the Beach Ė To begin with I set the combination up and gave it a few casts with a 6oz lead and was pleasantly surprised with the distance achieved with an overhead lob (60 yards). Slowly I increased the power on the overhead cast and was comfortably reaching 85+ yards. This is plenty of distance for the budding angler. I think that if I had cast much further then this it would have begun to push the rod and reel towards their limits. This is because of the line and the manor in which all lower budget reels lay line onto the spool, which is important when casting. I may have changed the line that the reel came with as personally I prefer thinner line, but maybe that is me just being a picky match fisherman, however, putting some decent line on would improve its ability for beach matches as most it would add some extra yards to your cast which can at times be very important, however, the line it comes with is perfectly adequate for most types of fishing and I would recommend only replacing it after a few months of use or if needed. The reel retrieve was smooth and quick which was pleasing given my initial impressions of the reel. I then had a few casts with a baited rig. The fishing at this time of year can be difficult and at the time of fishing I only expected a few Rockling, which I got but the bite detection was relatively good and enough to allow me to see the bites from these little critters.
Match situation Ė Bite detection is highly important here as 1 fish can win or lose a match so I was relying on the rod to come through with the goods. Because I was fishing from a harbor wall casting was not of importance as the fish were generally close in. The bites were clear and rattled my rod tip. The indication was good enough to tell what types of fish were biting at times by the rod tip rattling in certain ways which indicated tell tale biting behavior. I was really pleased with the way it coped and it would make a good rod for someone starting to fish who is considering the match scene.
Overview: Both my self and Glenn (current B.P.P.A.A champion) agreed that this was an excellent starter kit for anglers getting into sea fishing and more then happily recommend it as it allows you to fish in a variety of situations and therefore, represents good value and flexibility. You could get away with using it in most situations with the exception of Lure, float and Boat fishing where slightly more specialist rods are required. We recommend it because many new anglers make the mistake of buying the most expensive equipment and then either lose interest in the sport or donít know how to get the best from their tackle and end up selling it. This set up represents excellent value for money and will last you a good few years and should you stick with the sport, you can then consider upgrading to more specialized equipment. We really feel that when you start fishing the most important thing is to have a multi purpose rod that allows you to get your line in the water catching fish. This is because many anglers begin by beach/pier fishing or even feathering for mackerel in summer months and for that purpose this combo will not let you down. It will provide you with a basis to develop your fishing.
The combo is available at www.abfishingtackle.com and you can follow this link to their site or by clicking here it will take you directly to the combo page and grab yourself a bargain. They also stock a wide range of angling products and if you wished you could even upgrade from the combo in this review to the Northstar Powersurf Beach Combo or the Piranha Powersurf Beach Combo, which are slightly higher priced.
The Guys at www.abfishingtackle.com have kindly let me keep the combo and although I have given the rod to a friend who has just started sea angling, the reel, Shock Leader, and rig will all be given away at the next SussexSeaFishing competition/meet of which dates will be announced very shortly.
---
Item
Ultima Power Plus Line 15lb

This line from Ultima has had very positive reviews. Its lower diameter helps to increase casting distance and hold bottom better in stronger tides due to its lower resistance. I have loaded some of this onto my reel and had a few sessions with it and i am very pleased with how it performed. Ultima UK launch Power Plus, aimed to combine everything that has been achieved in monofilament fishing line development in the last 10 years and add the very latest developments in polymer technology to at last create a high tech fishing line that satisfies everybodyís needs. It has very low memory and is a truly great line.

I know its a shameless plug but you can buy it from our new Tackle Shop at £8.99 for 1080m (which is very well priced as most sell 100m for £3.95) along with a range of products all at very competitive prices, its worth a look.
---
Copyright © 2006 SussexSeaFishing