Pevensey Bay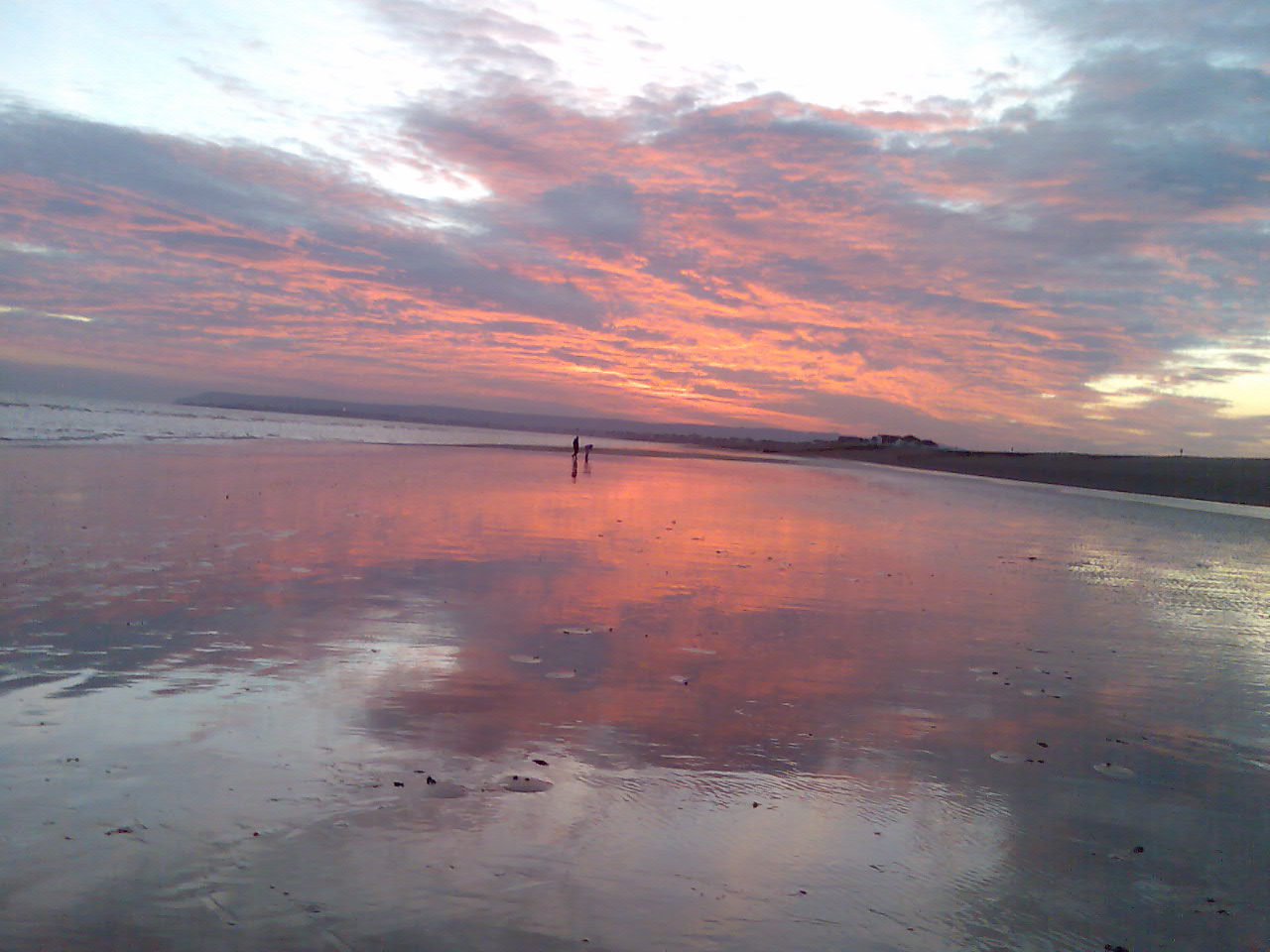 Pevensey Bay (Picture: Hugh Potter)
Thanks to Hugh Potter for all of the following very informative information about pevensey:
Overview: The pevensey / normans bay area is best viewed on a low tide to see where the gullies and features are, the bigger the tide, the better, ideally a 7m+ will get the best results, both with regards the fishing, and the view across the sand at low.
Be careful when walking out into the bay, many of the marks lised below are effected, there are areaís of silt / clay like mud, usually gullies / troughs between the sand banks, which can be pretty deep, so either go with someone, or donít Ďkeep wading thru cos it canít get much deeperí, it can ! Iíve personally been past my knees in the stuff. wellies are a must !
Sink holes are also there, you can see these as puddles which look like fresh water spings, this is exactly what they are, water from the marshed behind bubbles up through the sand, they range from a foot or so, to several feet in diameter, and they're normally no more than a foot deep, and filled with stones / shells below, but if you step in them, you'll go straight down to the hard bottom, some i've not seen have been as much as 2ft deep,
Pay particular attention when pumping lugworm at night. Itíll often look like a couple of inches of water on the sand, in fact, it can easily be deep silt / mud. Iím not aware of anyone ever drowning in the stuff, nor do I want to hear of any ! just use common sense and a good headlight.
Bait
BaitÖ most baits are readily available from Anglers Den, however, if you wish to collect your own, then the bay is one of the best places to do so. There are many areas where you can dig or pump lug worm (the latter being more popular). At low tide, especially after a sw blow, youíll also be in undated with various baits which get washed up, most an be frozen or used right away, slipper limpets (snail type shellfish which stick together piggy back style), razor clams, cock clams, butterfish and many more can be simply picked up !
Obviously different baits will catch different species throughout the year,
Lug worm
by far the best all round bait in the bay. I canít think of any common fish which canít be caught on it ! slightly stinky lug is excellent for flat fish, especially dab and sole, so donít be in a hurry to throw away that week old worm ! Lug can be bought from the den, fresh wrapped, frozen salted and oiled, or sometimes fresh dug in water, or, can be pumped from the bay itself. Fresh lug is probably the best of the three, although I have often outfished fresh lug with frozen salted and oiled when the fishing is hard going !
Rag Worm / maddies / harbour rag,
these can be a good flatfish bait in the winter, dabs, flounder and sole will all fall to them. Big bunches or rag, with squid, are also a good smoothound bait in the summer,
Squid,
Squid can be fished whole, close in for bass, float fishedin strips for gar or mackerel in summer, or used to tip off worm baits.
Slipper limpets,
Readily available, most of the year around, these fish particularly well after a good sw blow, fished with lots on a hook, and occasionally a bit of elastic if distance fishing, these will bag a number of species, flounder and bass love em when fished close in.
Razor clam,
Again, fished as above, they can be a good bait on their own, or fished as a tip bait / cocktail.
Cock clam (youíll guess what it is when you see it), butterfish, cockles, and many other shellfish can be found along the low water mark, these baits are not used with enough regularity for me to give an accurate idea of what to catch, the large cock clams are supposed to be good for cod in the north east, but Iíve not personally caught on them (donít find many !), butterfish (small clams) and cockles seem good for flatties and the odd bass.
Mackeral,
Whole fillets can be used to good effect close in, for bass. Although greedy pout and whiting can also make you leap towards your rod with hope ! smaller chunks / fillets will see the occasional dogfish, thornback ray, or bass, as well as pout and whiting in silly numbers !
Tides
Tides...
Generally speaking, the bigger tides fish better, they also allow better access to seldom touched lugworm beds, night time will generally out fish day tides too.
Whilst the bay can fish at all states of the tide, the majority of it is shallow, so the first and last hour or so are usually fished out on the sand, be aware of the tide though, itíll often come in quick, more so on the big tides, and fill the gullies, most are shallow, but some are several feet deep with muddy bottoms before the sand youíre on is covered !
I personally prefer to fish from low, to a couple of hours after high water if I have the time, usually I throw out a couple of big baits while on the sand, for bass, and leave them out for a while, often until the sand is almost covered, then while the sand is still available to walk on, once the gullies are covered, I usually get one bait in there, and another at distance, thisíll give you the chance of incomoming fish, as well as a stab at those already likely to be in the gullies, such as bass, flounder, sole, etc,
Rigs
Rigs, for big baits, a running ledger is the best for big baits, fished with anything from 2/0 to 4/0 single or pennel hooks, for general fishing, 2 or 3 hook size 2 flappers or clip down rigs are idea. Close in fishing will require 3-4oz gripped leads, or fishing at distance, a 5-7oz will be required for the stronger tides, 8oz in the strongest conditions may even be warranted !
Most popular marks...........
please remember, many of these marks are accessed accross private land, so please be considerate with regards to parking, do not block peoples driveways, park right on corners, or generally park in such a way as to cause problems of access for caravans or boat trailers,
eastbourne (west) side of pevensey.....
'white horses',
go into the entrance to bay view caravan park, follow to the end, park properly on the left or right, white horses is between the long groin by the sailing club, and white horses martello.
'val princepts road',
turn down the road by the red post box, follow to the end, thats it !
'main car park',
this is the main town car park, you pay tween april and oct to park during the day. easy fishing to the right or the left.
east of the car park.......
'pebble road',
follow the beach road east, it either just before, or after, the southern water depot, park either in there or on the main road, fish near the pipes.
'red house' and 'kiosk',
same as above, but before you get to the end of the bungalows, look for the big steps that go up tween the houses onto the beach, there's a set behind the newspaper kiosk, and another set a bit further along, the last set i think. which is red house.
'end of the bungalows'
is a popular mark, turn onto the beach road that runs along from pev bay. follow it for a mile or so, to the end of the bungalows on your right, park on the left in the layby, walk thru the big 5bar gate onto the beach, fish by the big groin, i've done better fishing to the left.
'billies tower',
go past the end of the bungalows, and just as you get to the end of the next litle group of bungalows, there's a smal layby on the left, park there. walk back and by a small post box there's a footpath to the beach, billies tower is the martello tower.
'alices pipe',
go past billies tower, just before the level crossing turn right, follow past the campsite, and bear right, when you see the beah in front of you, bear left, follow to the carpark, you're on alice's pipe ! fish to the right or left,
'woodyard',
instead of turning right to alices pipe, go over the level crossing (only manned part time, closed the rest) and turn right, follow over the next level crossing (1mile+) and park in the gateway on the right of the left hand corner, that's the woodyard, fish to the right or left, the left is cooden beach, the right is the end of what I consider Normans bay.
Hugh "crazyplums" Potter.
Team Extreme SFC
---
Other valuable information: Pevensey normally fishes well 2 hours up 2 hours down like most places best place for diggin bait is out from the car park on the one way system the deeper parts are towards eastbourne harbour where as its more shallow towards normans bay end.
The deeper parts are known to produce smooth hounds during the summer months to fresh peeler where as most the other areas produce bass small rays (good for sole) pouting eels during summer.
During winter can produce lots whiting dabs and have been told in rough weather cod. (Thanks to Darren who sent in the above info).One thing about Pevensy that i have heard from matches is that a longer cast often produces better catches so clipped down 1 and 2 hook rigs will probably get better results when pleasure fishing.
Probably the most productive place to fish in March is Pevensey Bay. Unlike other venues on the south coast the water at Pevensey tends to stay dirty even through calm periods and is sheltered so you can fish there during the roughest seas. To the make the most of the fishing here you need good fresh bait. Black Lug, blow lug and king rag will all fish well but for any adventurous bait diggers out there the killer baits are red rag and white rag.You can expect to catch pout, rockling, the odd whiting, school bass, flounders and plaice. Distance casting is not essential but you will catch alot more plaice casting at distance. Best times to fish are 3 hours before high tide to 2 hours after high tide. Pevensey is not a place to fish over low tide as you will find yourself fishing on sand 300 yards from the beach (Glenn Arnold).
---
Copyright © 2006 SussexSeaFishing