Past Catch Reports - This page is dedicated to archiving previous weeks catch reports
Report from 10/12/07
This week has seen continued strong winds from the S and SW, which means that fishing some marks has either been extremely difficult, unpleasant or not possible.
Brighton Marina has been closed all of the week due to teh bad weather so unfortunately there is nothing to report from there. Hove beaches when fished have produced some schooly bass and flounders on slipper limpet tipped baits and whiting have been caught after dark.
Shoreham has seen some nice flounders caught in day and night sessions. After dark there has been whiting with some being to good size.
Pevensey bay has been one of the most fished marks this past week and seaweed on the line has caused a lot of problems for those that have braved the conditions. There has been a few Codling caught around the 2lb mark on lugworm. there have also been quite a few flounders and whiting.
Glenn managed to fish opposite the Hope Inn (Newhaven harbour entrance). He had a dozen whiting, 3 pout, 2 rockling, 1 decent flounder and a bootlace eel. All on lugworm. The benefit of fishing this mark in rough conditions is that you are only 20 yards from your car and fishing into a deep entrance to a harbour. there is no need to cast far here either and often fishes best when rough or just after a storm.
There were also reportedly some nice codling caught near wide in a match earlier in the week.
Sorry this one is short but there really hasnt been many people mad/brave enough to fish these conditions so reports have been few and far between.
---
27/11/07
This week has seen mixed weather with rough conditions early in the week which calmed down and cleared the sea out by the end of the week. There are a number of reports from across the county and I will start with Brighton Marina's East Arm: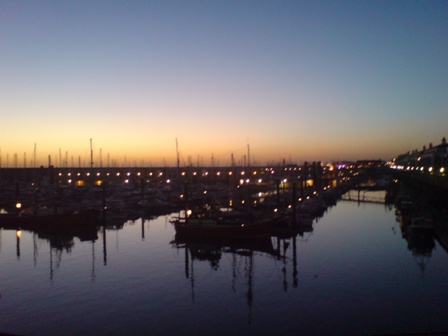 Arrived at the marina east arm around 1700 to set up and took this picture of a stunning sunset . it was cold but luckily we were shielded by the cliffs and the marina. However, upon arriving i realised i had left my bbq food in the car! i set up my gear as did the other guys and we were into some nice sized pout in our first few cast (up to 10 inches), i also had a schooly (pic below), which i returned. the tide started to come in and the tide pull seemed to effect the fishing as it died off for about an hour with only a few pout and whitingb showing up, so i went and got the food from the car.

Upon coming back my rod was tapping so i reeled in and had a small schooly again. with 2 bass in 2 casts a few of us live baited pout and quite a few of em were munched by what we think was cuttles or squid. i got one to the surface and it gave a good fight but then let go but no more bass were seen and just cuttles eating livebaits.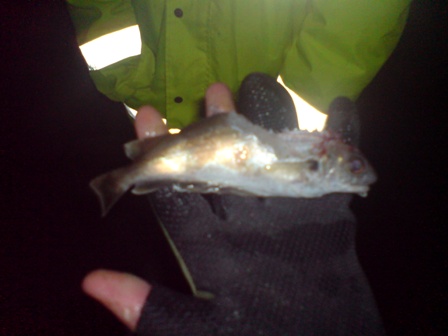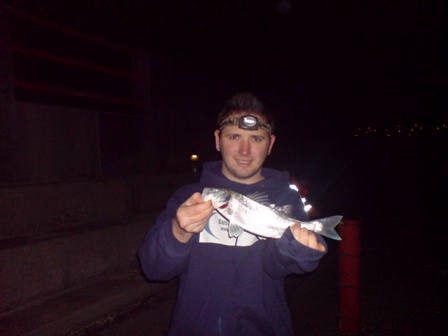 I set up the bbq and we all enjoyed burgers, sausages and hot chocolate. fishing was still a bit slow with a few pout, whiting and a sole between the group of us mainly caught at distance until about 9.55 when the tidal run started to slacken and the fish came on. we had been using lug and rag and sometimes tipped with squid up until now. ppl were casting all ranges although distance was proving best while the tide was strong and weed was annoying at times.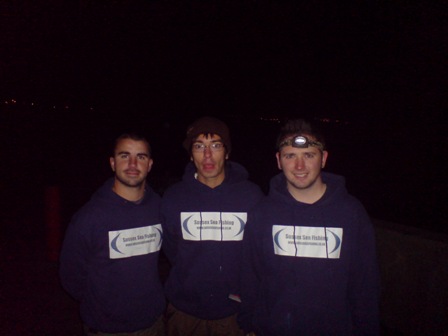 Above: The 3 Amigos and part of team SSF. From right to left: Glenn, John, Me (Craig)
Below: Me looking crazed with a pollack of 1lb 4oz (it was minus 2 and im in a SSF hoody posing for a pic! tart)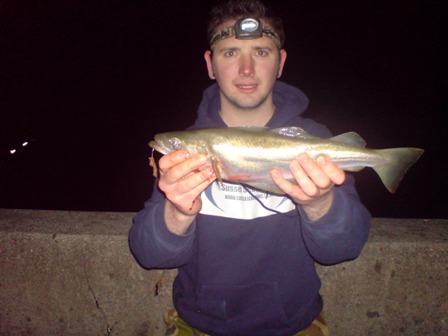 From about 2200 onwards it was pretty hectic with a fish a cast. mostly whiting to good size and a variety of sized pout. This was just after the high tide. it may have been coincidence or not but at this point we had changed to fish baits which included blueys and they were doing the trick when added as a tipping bait to lug. My mate howie also had a mackerel on it (pic below). I then had a nice pollack at about 20 yards on rag. i estimate it was around 1lb 3-6oz (pic on right). I know I look like a crazed man in the pic but its because its minus 2 and im only wearing my ssf hoody to pose for the picture, yes im a tart lol. The whiting were on the feed taking most baits at all ranges and i even pulled in a few double shots on my 3/0 pennel rig as did johnny. zak also had a baby thornback around 11.30ish.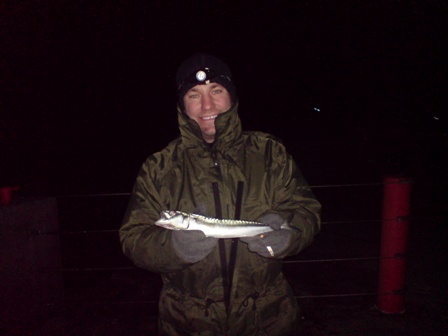 Howie with his November night Mackerel
The bites continued right up until about 1.30 when we left and all in all everyone had a good nights fishing. I was pleased as i ended up with a treble shot which is a nice way to finish.

The technical stuff, tide state rigs and bait etc...we ended up with a mix of species which included whiting, pout, pollack, schooly bass, thornback and sole. most anglers in attendance had a good number of fish with best results coming just after high tide. most rigs were 2 hook clipped down rigs cast distance or 3 hook flappers in close with size 2 hooks. pennels were also used with size 3/0 hooks. best baits seemed to be lug tipped with mack or blueys although the latter fish baits seemed better.

John with 2 whiting on his pennel rig
In total we raised £100.00 between us for the Teenage Cancer Trust so a big thanks to all those that donated and came along. Also a big thanks to those involved with the SAS for organising the LiveFish 5 event and for fishing it. you all truly showed what a great bunch of people sea anglers are. I will let you know the final figures once they have been announced.
Shoreham West Arm fished well this week with best results coming over the high tide and just after it. Similar catches to the marina with the addition of a few Flounders showing up and some nice sized whiting. There have been reports of a few fish off Shorham beaches as well.
Pevensy Bay has fished ok this week with some nice whiting being caught along with the odd codling mainly on fresh lugworms.
Hove Beaches have fished well this week. Jay Bradley fished them on Friday 23rd with some friends as part of a mini match. Jay had 12 whiting and 1 flounder of 1lb. In total his weight was 5lb 8oz which was enough to get him the win. Some of his friends had whiting around the 1lb mark as well. Similar results as Shoreham and Brighton with most fish coming on or after the high tide. Most fish were on lug baits.
Update 27/11/07: Thanks to Martin Baker for passing me on this catch report: fished holland road (Hove) last night with a mate,we had bout 20 sizeable channel, 2 undersize pout, 1 undersize schoolie,1 sizable flounder and 1 codling just under 3lb,some of the channel were over a pound so good sesh perfect sea perfect conditions freshly dug blacks was the bait,to be honest we were a bit surprised to catch a codling but there you go last cast as well.
Thanks to Gary Saunders for this report from Normans Bay: Fished Sunday evening. We had a few Whiting on mackerel
strip and slipper limpet. Next angler had 5 whiting and a 5lb codling on
lugworm.
Sam R sent this report in from Pevensey. I got to the car park at around 10:25am. I walked to the bay and there were people fishing all the way up the right hand side to normans bay and the left hand side of the bay, this was due to there being a open match on. We drove down the road on the left to find a gap and found one quite a way from where i originally planned to fish. I set up and it was was about half an hour latter as soon as the tide turned a had a double shot of rockling of a reasonable size. Then my dad left to do some work and soon after i got a bite and reeled in a flounder, as soon as i had started to reel in the guy next to me started to reel in as well and then the person after him and we all caught a flatfish of some kind. Then just before we left i caught another rockling.
That about sums my day up i did miss a few bites which annoyed me but the people left of me reeled in a good few flatfish.


There has not been too many reports from Seaford this week but when it has been fished there has mainly been Whiting and Pout. There were some reports of Codling during the week as well.
If you wet a line this week then please email me with your catch reports and i will add them on the site. Many thanks, Craig
Report from 10-19/11/07
This week, in addition to the normal sussex areas covered, there is a bumper report with an emphasis on dover as i have had some cracking reports sent to me by Howie Harden from there and i also visited the area myself as part of the 3 day festival match.
Update19/11/07 from Seaford by Howie:just to let you know we fished seaford tuesday just gone,we started at low tide 7:30 ish and we started to get bites every cast producing whiting and pout almost every cast some to good take home sizes.as the tide built about 1 hour after low i had a large flounder well over a pound,and still the whiting were relentless,2 hours after low water my rod tip bent right over and sprang back up and started to show small movements so i struck into the fish and found a familier thumping on the other end and knew this was no whiting,the fish came close to the shore and tried to make a getaway but i was able to pull it up the shingle and found that it was a whiting but also a nice plump codling of around 2lb(pennell rig top hook whiting and larger bottom hook codling) so they are still around!.we just had whiting after that but again to good sizes.nice to see seaford fishing well again after a poor period of 2/3 weeks ago,we will be there to give it another go over the weekend. All fish were caught on king rag tipped with mackerel (yep even the codling).
Brighton Marina has produced the usual mackerel, pollack and gars while the water was clear. there was a brief few days where the winds got up which turned the water a chocolate colour and in turn slowed catches of the above species down. this did however, improve catches of pout, whiting, thornback rays and schooly bass.
Hove beaches have produced a few flounders to good sizes along with the odd codling and some nice sized whiting after dark.
Pevensey Bay has fished well this past week, which may be due to the water staying slightly murkier a bit longer then most loacl areas. there have been reports of some nice sized whiting,some pout, flounders and the odd codling. best numbers of catches coming after dark with fresh lugworm. There have also been reports of a few dogfish showing up in the bay after dark.
Seaford has fished similar to the areas mentioned above with some good sized whiting being caught amongst the pin whiting. a few rockling are starting to show as well.
Shoreham beaches have produced a few nice bass and codling amongst the whiting.
Kent section. As i have said before, i know many anglers head down to kent for winter sessions in persuit of the codling so i have added a few reports from there this week. I will start with my trip and the dover 3 day festival and then i will move onto howies trip to kent.
Dover 3 day Festival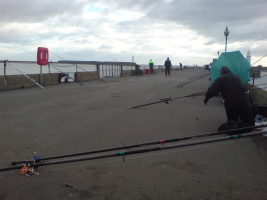 Overview: As most of you know this was my target to return to fishing and whilst i managed to fish the match, i couldnt do it properly as my back was still tight 3 months after the op. As a result i knew it would be a struggle for me to do well and took the attitude that i was pleased to be fishing and enjoy the 3 days. saying that there is still the competitive side of me and as a result i had almost every bait under the sun, maddies, white rag, king rag, yellow tail lug, black lug, common lug, peeler crab, squid, mackerel and sandeel (as you can see just a bit). My main concern was not winning the muppet cup as this is a prestigeous trophy presented to the angler from the brighton group (of 8 good anglers) who catches the least weight over the 3 days, you are then known as the muppet for a year and tarnished with the label for life lol. Not to mention the fact that you are presented with it infront of all anglers who fished the match at the presentation. I knew i was at a disadvantage as i didnt have the option of casting out and fortunately for me the weather was poor, which meant that we were unable to fish the breakwater and had to fish the Prince of Wales pier which is a much more difficult venue to fish in ters of catching large numbers of fish and scratching would be to my slight advantage. I had a bad start before even wetting a line as i had problems with bait as they were sent to a wrong address and only arrived 5 minutes before i left for dover. To add to this glenn also forgot to load most of my clothes onto the van so i had to buy some on my arrival. After all this drama we arrived and the social side commenced with plenty of drinking, i retired to bed at 1ish as had to be up at 7 but glenn was hardcore and crawled into bed about 4.30am leaving him with no sleep. I swear he was still half cut when he woke up. This theme continued each night to be honest and god knows how we survived! anyway, back to the fishing.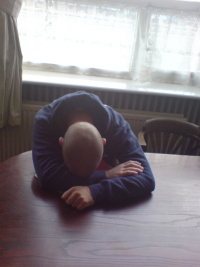 Day 1 - Things started slowly for me on day 1, the fish seemed to be at a range of 50 yards plus and due to my bad back i couldnt reach them and was looking at 30 yards tops with an overhead flick with a 3 hook flapper. I was beginning to get a little disheartened as i knew that a good number of fish were being caught and yet i coldnt get into them. I decided a change of tactics was needed so I opted for a ssf 2 hook clipped down rig just in the hope of getting a few extra yards. i knew that with my bad back it may only be an extra 5 or 10 yards but i had little to lose as was still blanking an hour and a half into the match. This change seemed to pay off and i managed to land 2 pout and 2 whiting, 2 of which were a nice size. these were caught using yellow tail lug on one hook and black tipped with squid on the other. as the tide slowed down, a few Pollack were caught so i decided to change tactics and fish down the side for pollack. Now Pollack fishing here is quite different to Sussex because instead of float fished prawns or mackerel strip like we do on the marina it was a case iof using a 10ft rig with booms, size 2 hooks and a combination of ragworm and maddies. You need to find the depth that the fish are at and fortunately i found them quickly as they were high up in the water (its very deep there) and I managed to bag six nice pollack while the chap next to me landed 5. This propelled me to a good final weight of 3.902 kilo and just a few ounces off winning the day in my section. I did manage to win heaviest days bag of Pollack. Glenn Who was fishing a different peg managed to land 5 kilo of fish, which was a very respectable weight for the day, he also had heaviest bag of flatfish. My days catch put me in a good position to avoid the muppet cup so i was satisfied. I know that the pic below shows dead fish and unfortunately the match is still not catch and release, however, all the fish are used by either the anglers or for pots.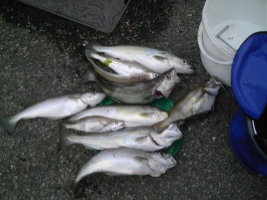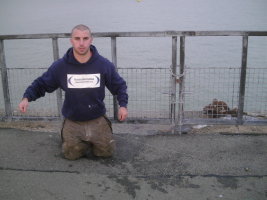 Craigs Catch day 1 Glenns Pollack Boom rig
Day 2 - This was my worst of the 3 days and it just seemed that whatever i tried i could not get a fish. In view of my succes the previous day with the Pollack i tried Pollacking for 3.5 hours but not even a bite. I tried mixing my rigs, baits and distance and did manage to get 2 whiting and a flounder to save my embarressment. It was a tough day in our section and weights, on average, were well down on the previous day. This wasnt good news for me as most of the Brighton lads done ok, bar a couple, and it meant i was back in contention along with 3 others for the brighton boys muppet cup. I can assure you that at this point a few of us were sweating and the banter was flying. a few early nights were had, which is a rare thing as a big part of our trip is the social (drinking) side of things and late nights and hangovers come as standard.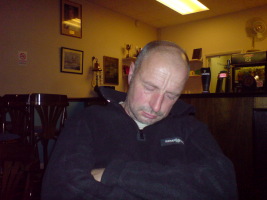 Muppet in waiting, Roys early night in the pub
Day 3 - I knew the pressure was on so had to try extra hard. I had a plan of action for the day which was to cast out (all of 30 yards) to try and get a few whiting and pout, and then change tactics to pollack in the last hour when the tide was right. This tactic payed off and by the final hour i had 6 sizeable fish which included a good sized whiting and pout. Just prior to the last hour a few pollack were caught so i groundbaited with some bits of ragworm, maddies and lug. I started by fishing deep at 3 turns off the bottom and my choice had payed off as bam the rod bent over and i was into a sizable pollack on maddies. I dropped it back down and got the right depth and 5 mins later bam again, another sizeable pollack. Barring a luck fish from Roy arnold i was clear of the muppet cup as he was still blanking. with about 5 minutes to go my rod doubled and i was into a very good pollack or possible bass, as it was like pulling into a concrete block with a rocket up its behind. after a brief struggle it came off and to say i was upset was an understatement as that would have won me heviest days catch of Pollack again amongst other possible prizes but hey thats fishing. But at least i was not the muppet!!!
End result: overall i didnt do too great but it was nice to fish and not to be the muppet. In my defence it seemed that my sections each day, which included some very good anglers, had no fish in them. this is re-enforced by he fact that the chap who won our section 2 days and came second in our section on the other day finished 9th in the overall standings! Roy Arnold who is a top match angler, somehow ended up with the brighton boys muppet cup and he took a slaughtering by us lot but he did take it well. Amongst his prizes at the presentation (where everyone who fished the match was watching) was the cup itself, fishing for dummies book, a toy fishing game for him to practice and a mug with the muppets on. He opened these to a chorus of the muppets theme! pics of the presentation below. All in all a difficult but great weekend and we will be back next year for more fun and games. Me and glenn also collected our winnings for our respective catches on day 1.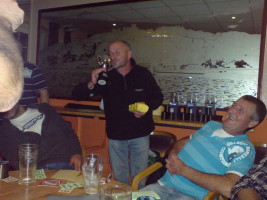 Roy collecting the muppet cup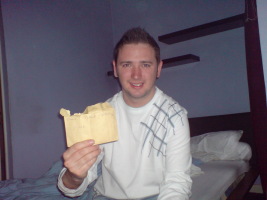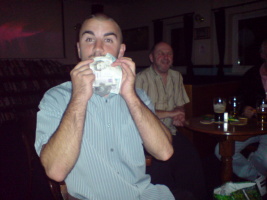 Me and Glenns with our winnings
Till next year......
A massive thanks to howie for these detailed reports from kent below:
Admiralty Pier
'hi mate,this is how our trip down to kent went,
arrived in dover at 7:00 ish ready to pick up our bait to fish the admiralty pier at 8:00.i was glad that i had pre oordered the bait (fresh black lug) as ther was none left for the locals that turned up in the shop wanting some that morning.got onto the peir and walked up onto the extension and set up by the cruse ferry sheds (supposed to be one of the hot spots) as did some of the locals.looked over the side and saw the water was nice and dirty and still quite low against the wall but high water was'nt untill just after 10:00 ish,the thing that supprised me was the speed of the water as it raced out to sea against the wall as the tide came in,it must have been traveling at around 10 mph!!.as we hadnt fished this peir before i was glad i did a bit of home work as this proved to be very valuable as the day went on.we both decided to use 7oz fixed wire leads on a sort or running leadger rig with a 5 foot flowing trace with a pennel set up on the buisness end.we were using lug tipped with crab or squid and some times just fish bait on its own.first cast i threw the lead out about 50 yards slightly to the right as the sea was running to theleft and the tried to let it settle hoping the fixed wire lead would sink into the mud sea bed but after about 1 minute the tide rip had pushed the lead tight up against the wall so i had to reel in and try again before i got snagged,keith had exactly the same problem.after about half an hour we realised we had to cast out about 70 yards almost 180 degrees to the right and then the lead would settle somewhere near straight!! and then it was a matter of trying to keep the rod rested on the wall without it being pulled over by the tide,this was finaly sorted by sticking my pen knife in a hole in the wall at one end and trapping the but end against the railings to stop it being pulled round and then watching as the rod tip was wrenched round by the tide.it takes a lot to bend the tip of my suveran rx but the water here made easy work of it so much so that i thought the 15lb main line i was using was going to break.anyway the fishing went like this,1 dog fish to me about 2lb after about an hour (felt like 30lb pulling it against the tide) then nothing for the next 2hrs and then as the tide eased off a bit had 2 large pout and that was about it!!! keith blanked wich is very unusual for him. it was a similar story for everyone on the peir, i think only 3 small codling were caught all day.after speaking to one local lad he said that it had fished realy well the day before and he had had several cod up to 6lb and showed us the photos on his phone,always the way isnt it.he also said that since they have dredged around the port at various places the tide rip has become a lot stronger and some times is unfishable as you cant hold bottom.there wer some anglers who didnt do their home work and were using plain leads and small breakaway leads which caused them all sorts of problems even pulling their rods out of their rests.most of these guys either went home or moved down the peir to the first section where the tide rip is now way near as strong.
the fishing was poor for everyone on the peir but it was more of a getting use to session for me and keith and i would have this advice for any one going to fish the peir over this winter,
1 pick a smaller tide if possible
2 use a powerfull rod as a match type rod wont pull out your grip lead of the mud against the tide.
3 use up tide technique as your lead will just sit up against the wall if you cast straight.
4 use 30lb main line if poss and a strong leader knot(i saw a few lines breaking as people were trying to pull out their tackle).
5 take some thing to stick in the wall to hold your rod as it will just be dragged down the wall other wise!
6 leave plenty of room between othe anglers(unless you want to reel in every few minutes).
7 fish from high water down as everyone said that the slack period was the most productive as the fish can feed easier as the water isn't running as fast.saw a few locals turning up at 1 hour before and then leaving about 2 hours after.
8 6oz to 8oz fixed wire leads will only work here.
9 remember to get a ticket for your car as it means you dont have to run all the way down the peir about an hour after you start fishing thinking you have already been clamped,then buying a ticket and then realising in all your haste that you have forgotten the car keys so you have no way of putting the ticket on the inside of the windscreen so you have to run another mile back up the peir to get them and then back to the car and place the ticket on the inside of the windscreen.(what a twat!!!!!) made keith laugh though.
sorry its more of a report on the peir itself than the fishing but there wernt many fish about and we found that most of our time we spent there we were just getting used to the peir conditions.hope the information above is of some use to anyone thinking of fishing the pier'.
Deal Pier
'This is how deal was fishing,got set up on deal beach right outside deal 1919 angling club which is the same place as last year,we chose this spot again as the parking is free,the beach is just yards away so you can leave a lot of your gear in the car instead of humping it around,and we know the beach is devoied of snags(well neither of us got snaged once last year in a 2 day fishing session)nothing worse than casting out and wondering if you are going to get your tackle back!and also there is a little pub so if you need a little warm up arfet fishing its ideal.we started fishing about 4:00 pm and the tide was pretty much fully out,we wernt going to start untill it got dark but we saw two guys fishing the next beach away and they were pulling in some biggish looking fish (not sure what fish they were but wernt tiddlers) so we got started using just lust lug worm but tipped occasionaly with squid or bluey strip(we were saving the crabs for later)the fishing started off fairly slow but we were getting bites almost constantly and started to pull out a few decent sized whiting (all returned).just after dark my distance rod baited with lug and squid pulled round and stayed arched over,picking the rod up i could feel a that a fish had hooked itself on my clipped down pennell rig so i just eased the rod up and started to reel in hoping for a fight to develop but it diddnt happen,after a short while a dog fish of approx 2lb was lying on the shore,time to stop using any more squid or fish baits if these guys are around!.the tide was well on the flood by now and keith pointed out a very black cloud in the sky illuminated by the lights on the shore and it seamed to have a funny v shape to it almost like a start of a tornado (it wasnt it was just the way it was lit up by the shore lights i think) but within the space of just 1 minute the weather had gone from quite mild with a gentle breeze to a howling gale and heavy side ways rain!!!,this blew both my rods over on the stand and ditched both multiplier reels into the sharp sand at the edge of the sea causing them both to sound like grinding machiens when reeled in,bollocks! and i had to run up the beach to help keith who was hanging on to the beach brolley for dear like plus the bait and some tackle.we managed to get sorted out and most stuff back into the car and then decided what to do carry on fishing or pack up,pack up dont be daft!!
we started to fish with just one rod each due to the conditions and were bringing in the usual whiting per cast but the bites were almost impossible to pick up due to the wind and rain so it was just a case of reeling in after a while and feeling a fish or not.the sea was rough and it felt like our lines were being covered with stones as we started to retreave(this diddnt help any bite indication either).it was around this point that a guy came over and said that he had just driven down from hastings as his friend had fished the morning high tide to great success catching 7 codling up to 6lb (plus loads of other stuff) so he had come to fish the night tide.(we wondered weather the two guys we saw fishing earlier were his mates and some of the fish we saw them catch were actualy codling as he was planing to fish the same beach??)almost as soon as the bad weather had come it seamed to dissapear and left the night with a clear sky and a mild breeze but the sea still had a fair amount of energy in it,almost perfict conditions,here we go we thought.
the next hour or so we were pulling out the usual whiting every cast up untill about an hour from high tide when keith saw his line had drirted right over to the left(the tide was making the lines do this anyway but this was deffinately something different) pulling the rod up he struk into some thing bigger than another whiting and when he felt something kick back im sure he new he had a cod on the end and this was proved when after a short fight and some carefull timing getting the fish through the large shore breakers there was a nice plump codling of around 2/2.5lb lying on the sure spot on!
the guy fishing next to us was joined by two other friends and we could hear the cheers and frantic movements of headlamps trying to focus on the same object on the beach and knew that they were catching codling also.
it was now high tide and the sea had forced us to fish from the promonade along with everone else which was good actualy as it gave a great platform to cast from and was a lot easier to walk on than the shingle on the beach.we were still catching fish and then after about an hour after high tide me and keith had a spell of catching place?no whiting or codling just place,keith took one home as it was a good size.by this point we were using lug tipped with peeler crab and one thing we did notice was that doing this the whiting diddnt seam to bother us so much and when we did have a bite and miss it we were reeling in to find that the bite was at the top of the worm well away from the crab and if we did catch a whiting it was always on the top hook of our pennell rigs again well away from the crab?? i though whiting ate litteraly anything!
we could still hear the guys to our right cheering now and again as onother codling was reeled in,i went over and saw some of the fish and they were good ones.i think the main differance between our catch of mostly whiting and theirs (well one guy in particular) was the distance in casting.me and keith can cast around 100-120 yards(not on this night though as the conditions wernt great) but this guy was realy banging the baits out.we then noticed that on radio kent they had been putting out a flood warning for the whole eastern side of the country,something to do with high tides and a stormy low pressure front causing a big swell which would cause a bit water movement to sweep down the eastern side of the country and when it hit ramsgate area it would run out of space and just come in land and flood the place and the worst flooding expected in the kent area was deal great!!!.this is when some of the locals started to turn up to have a look at the sea and telling us that there was a storm comming and we should get out of the area,we talked to the first few concerned locals but after the 15th or so it started to get in the way of are fishing and we just wanted to tell them to x@#> off but instead just nodded and tryed to ignore them,i was a bit concerned though as we were sleeping in the car at the top of the promonande and had visions of waking up and being somewhere else after being washed away like on someones roof or something!!
3 hours after high tide it went a bit quiet and no more codling were coming out not even to the guy with the megga cast we decided to call it a night and got back into the car and listened to the weather report which was now saying the" wave/flood" was not expected to arrive untill the next high tide at 10:30 in the morning so we wernt bothered any more and just slept(very well as it goes due to the fact we had been up since 5am that morning and it was now gone 3am).
woke up to find we were still in the same place and haddnt been washed away but the sea was totaly unfishable with strong winds and a shore break of about 5 foot crashing straight onto the beach so we decided to move round to hythe to get away from it.
got some more bait and fished a mark recomended by the lady in the tackle shop(well we think we were fishing the right spot)and the fishing went like this,first cast lug on its own same pennell rig produced a tiny flounder,keiths first cast produced a snag and he lost his gear,my second cast produced a snag for me and this resulted in me loosing my tackle also,decided to move along a bit and my first cast produced another small flounder and keith first cast produced another snag and another loss of tackle along with his temper!! we decided to stop fishing and just have some food (a barbecue on the beach) as the sun was out and it was a really nice day being sheltered from the wind by the houses along the front.it was the sort of day that was so bright that it wouldnt have fished well anyway from experiance and we were only killing time before we got back to deal to fish the night tide (thats if it was still there and haddnt been washed away by the floods!)
we got to back to deal about 4pm and it was still there,the sea had washed the beach all over the road though and there were more stones on the road than the beach,but at least it was fishable,my only concern was the amount of weed that might be about as there was plenty on the pavements and road.
before we started to fish we popped into the little pub for a warm up and to plan how we were going to fish that night while nursing a well deserved pint when a bloke walked in carrying bags full of fire works,we thought he was selling the left overs from bonfire night to the regulars in the pub espeshaly as he went out and got some more.it then transpired that this massive arsenel of explosives that was filling up two bench seats of the pub enough to blow up a large country was for a fireworks display they had planned for that night and yes you gessed it right outdide the pub about 100 yards away from where we were about to fish!!!!!.couldnt beleve it,no point in fishing untill that lot had been set off so we waited watched a fire work display had another pint and then started fishing.
the sea was still quite rough and all the anglers were already well up toward the promonade,using the same rigs and bait we cast out and waited for the whiting onslought with the hope of a few codling,we used lug tipped with crab on all rods this time and it did seam to keep the whiting away more and at the top of the tide (after a few whiting and pout) i saw my rod tip bend over and the flick up again the current soon took up any slack but if the sea was calm i am sure it would have been one of those "clasic slack line bites"i reeled in to find a small but thumping resistance on the other end definatly not a whiting and carefull timing brought the fish through the crashing surf only to sea a bit of sea weed caught on the leader knot i hoped it would pass through the top eye easily and i would be able to land the fish but no of course it got stuck and i had to run back up the beach and onto the promonade still holding the rod before the fish got dragged back into the surf and was lost,once the fish was landed and not in danger of escaping i jumpped down onto the shingle to find it was the codling i thought it was about 1.5lb and 39cm in lenght,a good start,keith was the next in with another codling of about 1lb so that went back,he was next in again with another but this time it was even smaller but still managed to devour the big peeler crab bait he had on there(no wonder these things get so big with an appitite like that).
it was now 2 hours after the high water and the sea was retreating fast so we could now get back on the beach(the beaches just to our left were slightly closer in and the water was crashing over the wall so the people who were fishing there had had to pack up and go or move)we were still catching whiting and keith had another small codling but it started to slow a bit,one guy came over and said he had been catching small codling also but had found it had gone a bit quiet also so he was off,we decided to pack up also and start again in the morning.
high tide was at 12:00 ish that afternoon so we decided to start fishing at about 11:00 after some breakfast and tea but at around 9:00am cars started to pull up and people were getting out with fishing rods so if we were to fish the spot infront of the car we had to start fishing then.we cast out again using the same rigs but with one rod of fish bait and one of worm,this was to try for some whiting for the table as i only had one codling to take home and i diddnt think that i could justify 3 days away and a reasonable amount of money spent on bait to the missus with only one fish!! nothing happened bite wise untill after the tide turned and i mean nothing,nothing for any of the anglers for as far as we could see in either direction the bait was coming back in almost how it went out but then all of a sudden keiths rod banged down a few times and continued to do so so he struk and reeled in a large whiting and then it seamed that within minutes everyone else was catching as well,it was like turning on a switch the only trouble was we had to pack up within the hour and i still needed some table fish to avoid a possible ear bashing!
i started to catch but the whiting were small sizeable but to small for me,luckely 2 nice sized whiting came to me just before the bait and time ran out so ear bashing avoided!! still all in all a good fishing trip again at deal,did get speaking to one old local and he gave me some top tips for fishing deal which i will share with you,
1 the fishing starts just about the time the tide turns and fishes well to the bottom of the tide but then it can go quiet.
2 the beaches are all clean along deal so tackle losses should be minimal.
3 black lug is by far the best bait to use.
4 deal peir is £7.oo to fish,is very snaggy all over and gets so crowded that people get tangled left right and center so dont bother!
and thats about it mate,its a bit long (sorry) but it was 3 days worth hope it will be of some use'.
Again a big thanks to howie for the great report and information.